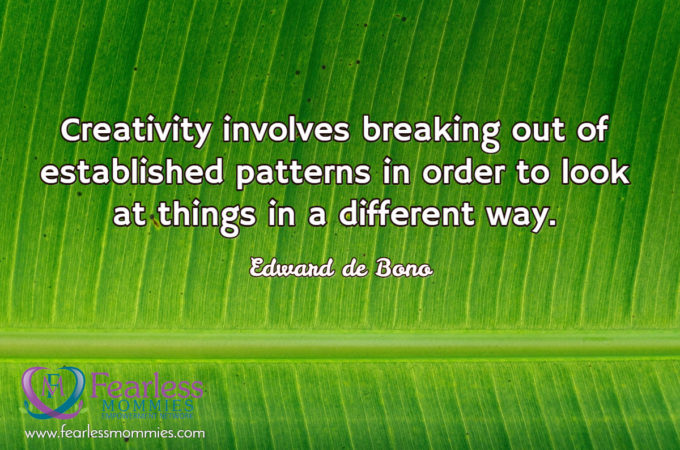 If you want to dream BIG then change your patterns
If you want to dream BIG than change your patterns. These patterns will come back around and around.
Especially through my time working on business, I see certain patterns that happen within myself. Here's one that I'd like to share today. I'm a GREAT starter but I struggle as a finisher! Um… even my Kolbe Type A Assessment results tell me I'm super high as a quick starter. That's why I always have great ideas and am pretty awesome coming up with the next big spark and strategy for someone else. Here's the catch… I STRUGGLE at finishing for myself.
As I'm in the promotion phase of my first ever interview series… The Kickass Moms Summit, there's still a lot of details I'm finishing. I'll be honest, I'm struggling through this a bit. I look around and I see lots that I've started but haven't finished. I was just about to reach out and apply for something new to move me through this discomfort when the light bulb went on… I really don't like this part. Which brings me to what exactly IS this "part" that I'm so dreading? This part is the unknown, it encompasses the rewards that we reap. We're almost there and it feels uncomfortable but unless you keep moving forward and stay on track, it's easy to loose sight of the rewards ahead for all the hard work. Or perhaps it's the fear of failure that's lurking in the shadows? What if…? What if…? The part of me that has the resilience to stay the course answers 'psssstttt… what if I told you there was no failure?'. No failure? What the heck? She whispers "right… no failure, only experience and growth".
Identify your own patterns of what has and hasn't worked for you. Start by looking into your past, what showed up? Do you often start something and don't finish? Do you stay safe and comfortable in where you're at even though you have this nudge to dream bigger? Do you keep yourself so busy that you don't have time? What's keeping you from dreaming BIG and then going even BIGGER?
Your mind has patterns that need to reprogrammed. Did I just say reprogrammed? That geeky side of me sees that the mind is not much different than the software coding I used to write. If your output isn't working, there's new code we need to write to get to a different outcome.
If you want to create the life of your dreams, one of the first things you need to do is keep score of your patterns. Recognizing your patterns allows you to move through it and in the process, you will learn to change your patterns.
Going back to myself and the pattern of finishing. I'm learning that there is no finish line and all I can do is the best for me NOW and this will look different next year or even next month. I'm also learning that struggle is part of wrapping up something big you're working on. Much like if you were running a marathon, it's always smoother in the beginning, by the last mile, your arms and legs are moving very differently and the only thing you need to deal with is all in your head.
As a coach, I understand the importance of going outside of your own head to get a new perspective to recognize those patterns and move forward on your journey to a kick-ass life.
Keep loving and learning however big or small!
Love,
Lucia
Recommended